Finding the best ecommerce platform can be tricky, read our Shopify review to learn more about the shopping cart software they offer. Whether you are looking to start your dream business, simplify a current business, or you want to grow your business and increase revenue, Shopify has something for everyone. With Shopify you will have all the tools needed to create a great, professional-looking store in a matter of minutes. Shopify provides professionally designed templates that were developed with search engine optimization (SEO) in mind to help customers find your site and make your business a success.
Shopify Free Trial

Most of the top shopping cart providers are offering a free trial so that users can test the service and determine if it is the best option for their needs. The Shopify free trial gives users a full 14 days to test the service before paying anything. It's not a bad idea to demo a few different shopping cart options so that you can compare them and find the one that has the tools and features you want for your online store. The Shopify free trial doesn't require a credit card so it is totally risk free and you don't have to worry about getting a hold of anyone to cancel after the two weeks. If you are happy with the service and want to continue you can simply pick the plan you want to be on and continue the service. Let's take a look at the Shopify plans and pricing options.
Shopify Plans and Shopify Pricing


In our Shopify review we found that the pricing above is for the month-to-month option and users can save money when they choose to prepay annually, or enjoy an additional savings with a 2 year commitment. Annual plans are discounted by 10% and 2 year plans get 20% off the regular price. Let's take a look at the difference in features and what is included in each plan to give you a better idea of what your options are, every plan includes:
Unlimited number of products
24/7 customer support
Fraud analysis
Manual order creation
Unlimited file storage
Unlimited bandwidth
Discount codes
No setup fee
Ecommerce hosting
Numerous ways to sell
With Shopify your online store is completely customizable letting you implement the elements and applications that you want for your store. Shopify allows you to use a domain you already own or purchase one from Shopify if you don't have one. Another option is to use the free .myshopify.com subdomain created for you during signup. Shopify has online documentation and support documents available to answer a lot of questions and help you get started on your website, but they also have support reps available 24 hours a day to answer any questions that you can't find answers to.
You will never have to worry about your security or updates because Shopify takes care of all of that for you. They setup your SSL certificates, take care of all your security enhancements, and do free automatic updates so your online store will always be up-to-date.
Shopify Shoping Cart Payment Options
When you choose to use the Shopify shopping cart software you will have the ability to accept all forms of payment right away with no transaction fees or third-party restrictions.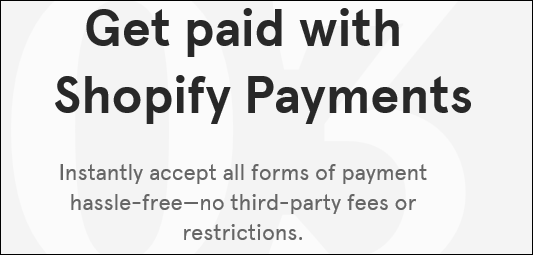 Shopify provides numerous ways for you to sell; accept payment through your online store, at a point of sale, or from social media sites like Facebook, Pinterest, and Twitter. Credit card rates will vary depending on whether the payment information is collected online or in person. In person transactions can be as low as 2.2%. Online transactions range from 2.4-2.9% plus $0.30. Payments collected using Shopify Payments have no transaction fee and external payment gateway fees range from .5% to 2% based on which plan you are using and the volume of sales generated.
Visit the Shopify site to browse themes and find the best look for your website. You may also want to checkout some of the online documentation to see some of the basics involved in building your Shopify business or talk to the support staff if you have questions that you can't find the answers to. If Shopify seems like the best ecommerce solution for your web store, get started today with the Shopify free trial.